{This post may contain affiliate links. That means that I earn a commission if you make a qualifyingpurchase through my links (such as Amazon), but it does not change the price that you pay. For more information, please see my disclaimer page.}
Time In The Garden
I have learned many lessons from the garden.
There is something very relaxing about puttering around in the dirt for me. Perhaps it is feeling closer to the Creator in His earth. Perhaps it is working with my hands. Perhaps it is the quietness that being outside usually brings.
Whatever the case may be, it is a wonderful time of reflection and learning for me.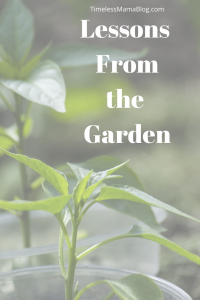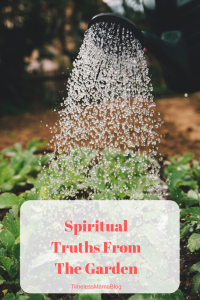 Lessons From The Garden
Working in my garden has taught me many truths about growth in our Christian lives. I usually ponder these each year as I plan and plant our garden.
There's no real order to these right now, but here are a few of the lessons I've learned.
A Garden Is Like a Relationship
A garden takes work, just as a relationship does. You can't throw out some seeds and expect a perfectly manicured garden to appear.
You have to prepare the soil, removing weeds and rocks. We have to maintain it, being vigilant to take care of any weeds that pop up or any diseases that plague our plants as soon as can be.
Like the garden, we must draw near to God and work on that relationship.
James 4:8 says
Draw near to God and He will draw near to you. Cleanse your hands, you sinners; and purify your hearts, you double-minded.
We must spend time with Him. Ask him to reveal the weeds of sin in our lives and the diseases to be dealt with.
We are told to be still and acknowledge that He is Lord of our lives.
Sins Are the Weeds of the Soul
If your hand causes you to stumble,cut it off. It is better for you to enter life maimed than with two hands to go into hell, where the fire never goes out. And if your foot causes you to stumble, cut it off. It is better for you to enter life crippled than to have two feet and be thrown into hell.

Mark 9:43-45
Weeding is something that must been done to keep a garden growing well and strong.
The roots of weeds will quickly choke our the plants your are trying to grow, tangling them hopelessly with their own.
They steal vital nutrients from the soil.
When you weed, you must not only get the leaves, or sprout, but the root as well. If you don't take the root of the weeds, they will grown right back.
Asking God to reveal the roots of sin in our lives is important.
Does a TV show cause you to sin? Stop watching it. Books? Stop reading them. Friends influence you to sin? Stop spending so much time with them.
Surround yourself with godly friends who will encourage you to pursue God and hold your accountable.
What we consume is important.
Even good, God-given things can become idols in our lives.
Interestingly, salt, which Jesus calls us, is a great weed killer. We need community. You can read more about that here.
Watering Your Garden
When watering your garden, you must water the roots deeply.
If you only water the very top of the soil, the roots will stay there, not growing deep into the ground to help keep the plant stable.
Because of this, a plant with a shallow root system will be easily knocked over.
We must drink deeply of the living water and ask God to continually fill us, and renew our minds. Again, it's a part of spending time with God, seeking His face.
How many times are we okay with a little devotion, maybe a little verse of Scripture, from a book instead of drinking in God's Word? Meditating on it? Talking about it when we get up and as we go about our days?
We have to put our roots deep in the Word of God. Then we will know the Truth for ourselves and not be easily swayed or blown over.
Pruning is Essential
There sometimes comes a time for pruning.
It can be a dead branch/vine, a burnt out part of our ministry that we must seek if it's God's will for us to continue in this ministry, and if not, it's time to prune it.
Sometimes, to make plants more productive, to let more of the plant's nutrients go to other fruits, you prune blossoms off.
There are times when we take on so many ministries, that they are not being given what they need.
That is when we must seek God's will for the ministries we are a part of, if we are able to give it our best, and reevaluate which ones God is calling us to.
Pruning is not comfortable for the plant, but it helps yield better fruit.
These are just a few of the many lessons I've thought about while gardening. I am excited to have been able to share these lessons with my children as we care for our garden.
Have you learned any lessons gardening?
Here are some more lessons from the garden