How does compost remind me that nothing used for the Lord is every wasted? Dead, decaying compost?
Hang with me.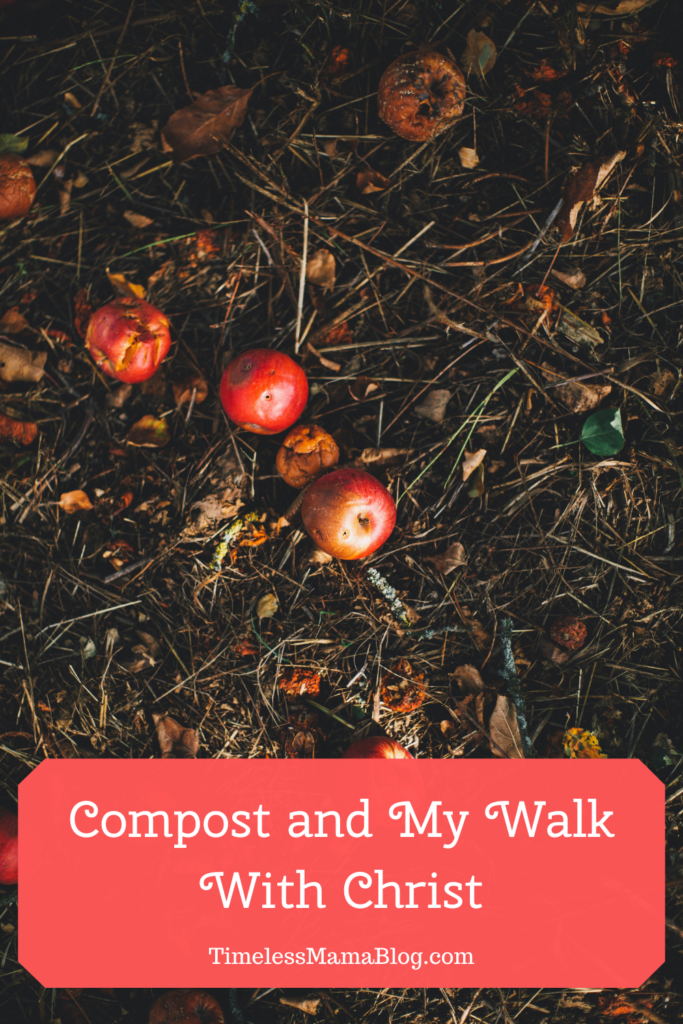 How Composting Illustrates Spiritual Truths
You know that I love spiritual truths illustrated by the garden, right?
I mean, I have written about some general lessons, aerating, salt and weed control, vines, to name a few things.
As I was carrying out some kitchen scraps to bury in the garden (I am a horrible composter, but one of the permaculture channels that I was watching and some research I did briefly has left me okay with burying some scraps when I can), I was hit with the thought of what was happening.
The Past Nourishing the Future
Old things, fruitful things, being burried to nourish the soil so that other things may grow.
Life is full of seasons. Childhood, young adulthood, singleness, newly wed, mom of young children, eventually mom of older children, empty nesters, and hopefully grandma or even great grandma some day.
In my singleness, I was able to devote a lot of time to childcare for our church.
Those days have past, at least for now, but the lessons that I learned are helping me as I shepherd my flock of littles.
The nutrients from that season of my life is now nourishing another season, just as the nutrients from kitchen scraps will nourish the soil for plants yet to come.
I am able to use lessons that I taught 2-4 year olds to teach my children things of the Lord.
I may not have the freedom to serve in many capacities at the moment, but I believe that the things gleaned from this season will nourish other ministries some day.
Old, Dead Past
Dead plant life is added to compost to add more nitrogen to your compost. Nitrogen is important to a plant's photosynthesis process.
According to the dictionary photosynthesis is:
the process by which green plants and some other organisms use sunlight to synthesize foods from carbon dioxide and water.
To absorb water, plants put their roots down, as with Christ followers putting their roots in the Word of God.
I do not think that I need to elaborate much on God's presence being like sunlight, or Sonlight.
Then we come to carbon dioxide. Something we humans exhale. Remnants of the old.
When the plant dies, carbon dioxide is given off from the decomposition of the plant. The role of carbon in plants is to foster healthier and more productive growth of the plants.

GardeningKnowHow.com
When we come to the Lord, we are called to take off the old self.
I really recommend checking out all of Ephesians 4. Okay, the whole book really.
For a seed to actually bear fruit it has to die.
Our old lives often allow us to minister in a unique way and give us different perspectives on things.
Manure, Yes, Animal Dung Is Great for Compost.
Sometimes we go through things in life that are, well, just manure. They stink and we do not see how it can make any good come from it.
Turns out manure is an amazing source of nutrients for your compost and garden.
We go through things in life, hard things.
Things that stink.
We cannot see what good can come of it. But God uses those times to grow us.
When we lean into Him, we find that we can learn a lot from any situation.
This is everyone's favorite motivational verse, is it not? You can find all sorts of gifts and journals with "I can do all things through Christ who gives me strength." on them.
Context is key.
Paul is talking about learning to be content in the hard times, and the benefits of struggles and how the Lord gives him the strength to be content.
My granddaddy used to say putting manure on strawberry plants produced the best, sweetest berries. And it is true. Manure adds a wealth of benefits to all plants when added to compost.
As the soil absorbs manure, nutrients are released. This enriches the soil, which in turn helps the plants. The most important benefit of using manure in the garden is its ability to condition the soil. For instance, mixing manure with sandy soils helps to retain moisture levels. Adding manure to compacted soil helps loosen the soil. Manure produces increased soil carbon, which is an important source of energy that makes nutrients available to plants. Other benefits of manure include reduced runoff and leaching of nitrates in the soil.

GardeningKnowHow.com
I loved reading this.
Manure enriches soil. It increases the nutrients available to plants.
Manure conditions soil. It helps make sure that conditions are right for optimal growth.
The word says that we are comforted so that we may comfort others.
It helps sandy soil retain moisture. There are hard times that we go through, and because we are able to look back on what God has brought us through, or is bringing us through, we are more likely to cling to the Word. If we have hidden His Word in our hearts, we can retain that in hard times.
Should we go out and orchestrate bad things?
No. It means that we need to allow God to use the results of our living in a fallen world for His glory.
A Side Note About Manure in Gardening
The thing about manure is, you can not just dump it on your plants.
You have to allow it to be worked into the soil. Dumping it on your plants and letting it sit can burn your plants.
We can not just wallow in brokeness because of circumstances. We must giving those pieces over to the Lord to work into the compost, and ultimately the soil of our heart.
Yes, there is grieving, and we do need to process that, but we can look at situations as either:
Insurmountable obstacles and pitch our tent to camp there and give up
Opportunities to grow closer to the Lord and move on with His help.
We cannot permanently camp there in the manure.
Nothing is wasted when you compost, and nothing used for the Lord is wasted either.
Have you ever considered compost in this way? Can you think of an other parallels between compost and our walk as Christ followers?