{This post may contain affiliate links. That means that I earn a commission if you make a qualifyingpurchase through my links (such as Amazon), but it does not change the price that you pay. For more information, please see my disclaimer page.}
{This post may contain affiliate links, for more information on what that means, please read my disclaimer page}
Turkey is a dish that can be fantastic. It can also be very dry and leathery if not handled properly.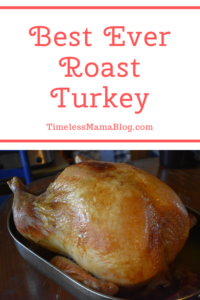 Years ago I watched Alton Brown's Good Eats Thanksgiving Special, and I had to try his turkey recipe/method. And it does rely heavily on method.
The result was the juiciest bird I had ever had, and my being named family turkey cook.
Over the years I have slightly tweeked the recipe, and it's only gotten better!
You will need a probe thermometer, a five gallon bucket (or brine bags), and to make sure that your turkey is thawed. This chart has more information on refrigerator and cold water thawing method times.
Please read recipe over in advance as it will take a couple of days.
Best Ever Roast Turkey
Brine
20-24 lb turkey
1/2 cup fine pink sea salt
1/2 cup light brown sugar
1 gallon vegetable or chicken stock (not low sodium!)
1 tablespoon black peppercorns
1 1/2 teaspoons freshly grated ginger
2-3 sprigs of rosemary
1/2 teaspoon rubbed sage leaves
1 gallon iced water (read fill pitcher with ice and then top with water)
To Stuff the Bird
1 red apple, sliced
1/2 onion, sliced
1 cinnamon stick
1 cup water
4 sprigs rosemary
Thaw turkey using either the cold water method (my favorite as it is much quicker-taking only about 12 hours to thaw a 20 pound bird instead of 5-6 days in the refrigerator). Remove innards and neck.
Add salt, brown sugar, stock, peppercorns, ginger, rosemary, and sage to a large stock pot and bring to a boil. Stir to make sure the salt and sugar dissolve well. Allow to cool completely and refrigerate. This is an important step for food safety reasons.
Line a clean, food safe 5 gallon bucket with a liner (fairly new discovery for me). Combine iced water and brine mixture. Place turkey in, breast down. With the liners you can secure the top, so that the entire bird is covered by the mixture and there is no need to weigh bird down or turn half way through brining. Refrigerate or store in a cool place for 12-16 hours.
Move oven rack down to lowest level and preheat oven to 500° F. Remove turkey from brine and rinse completely (inside and out). Dispose of brine.
Place turkey on a roasting rack in a roaster or half sheet pan (must be sturdy!). Pat dry.
Combine stuffing items in a medium sauce pan a bring to just boiling.
At this point I make a triangular foil breastplate for the bird and fit it loosely. Set breastplate aside.
Once the saucepan is just barely boiling, remove items from water and insert into turkey.
Tuck wings under the turkey and brush or spray with avocado oil.
Roast bird for 30 minutes at 500° F. Turn oven to 350° F.
Remove bird quickly, insert probe thermometer into thickest part of the breast and cover lightly with breastplate. Return turkey to the oven and cook until the themometer hits 161° F.
Remove from oven and cover loosely with foil or mixing bowl and allow it to rest for 15 minutes before carving. This will allow the carry-over cooking to get it to 165° F and allow juices to redistribute. Do not skip resting!
Notes
A 20 pound bird can take about 2-3.5 hours to reach this temperature following this method.
A good prob thermometer allows you to set your target temperature and will sound the alarm when that temperature is reached.
I usually advocate reusable products, but for drying the bird I highly recommend paper towels so that the risk of cross contamination is greatly lessened.
500 Sounds scary, especially for roasting the centerpiece of most holiday meals, but trust me. It gives it a kick start, reducing over all cook time and leaving you with a juicier bird.
Mr Brown does a fantastic job of explaining why you should ignore those pop-out "timers", use a probe themometer with an alarm, and this cooking method really, in the video link that I share above under Good Eats Roast Turkey.
Have you ever brined a turkey? What is your favorite way to use left-overs?
I recently shared a recipe for Copy Cat Veggies Made Great Veggie Cups that would make a great Thanksgiving morning breakfast!