{This post may contain affiliate links. That means that I earn a commission if you make a qualifyingpurchase through my links (such as Amazon), but it does not change the price that you pay. For more information, please see my disclaimer page.}
[This post contains affiliate links. This means that the price that you pay does not change, but I get a small commission when you purchase through my links.]
It has become a tradition in our home to have lamb for Easter. It is a symbolic reminder to us that Jesus was the Lamb of God who takes away the sins of the world.
It might sound intimidating, and some are not crazy about the taste, but it is rather easy.
The hardest part is getting it tied up before roasting. I made a video showing how I do it that you can watch here.
You will need a probe thermometer, and some butcher's twine, but that is all the extras that you will need to make this amazing dish (and really, you should have a good probe thermometer anyway!).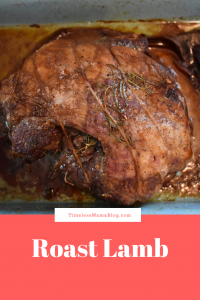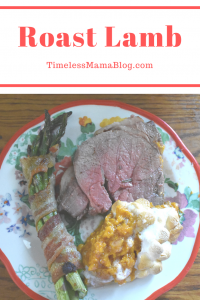 Roast Lamb
Boneless leg of lamb roast
3-4 Sprigs fresh rosemary
10 cloves of garlic, finely grated
Salt
Pepper
Avocado oil/bacon grease
Preheat oven to 450°F.
Open up your boneless leg of lamb.
Rub the roast, inside and out, with garlic, salt and pepper. Place rosemary sprigs across inside of the roast.
Roll meat up into a roast shape and secure with butcher's twine (see above mentioned video). Put roast opening side down in baking dish. Brush with oil.
Insert probe of thermometer into the thickest part of the meat. Cook at 450°F for 15 minutes, then reduce heat to 325°F.
Cook until roast reaches about 5° below desired doneness. Remove from oven and cover to rest. Carry-over while resting will continue to raise the temperature about 5° degrees, so always set your thermometer for 5 degrees below your goal.
Rare is about 15 minutes per pound, medium-rare is about 20 minutes per pound, and medium is about 25 minutes per pound.
Remember to let your meat rest for 10-15 minutes before carving for a much juicier meat.

Lamb Doneness
Rare: 115 to 120°F
Medium-Rare: 120 to 125°F
Medium: 130 to 135°F
Medium-Well: 140 to 145°F
You really do not want it well done. Do not even think it! I usually go to Medium-Well. That gives you just a bit of pink inside, and stays nice and juicy.
What Size Leg of Lamb Do I Need
Typically figure for 1/2 pound per person. So if you are feeding 8 people, you will want a 4 pound roast and so on…
Have you ever cooked lamb? What does your family eat for Easter dinner?