{This post may contain affiliate links. That means that I earn a commission if you make a qualifyingpurchase through my links (such as Amazon), but it does not change the price that you pay. For more information, please see my disclaimer page.}
Copycat Veggies Made Great Cups
These veggie cups are not exactly the same as the Veggies Made Great Superfood cups, but my 7 year old thought that I had bought them at Costco which is where we have sampled them.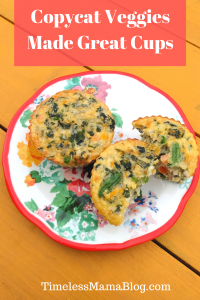 Tastes Just Like Them
My children are rather adventurous eaters, and quite the veggie lovers. These cups are packed with lots of vegetables.
When I went to make them, I was trying to recall the ingredients that I had read in the packaging for the Veggies Made Great Superfood Cups that we have sampled at Costco, and honestly, I could only remember that they had carrots and greens.
I may play around with making one that is closer to the actual thing, but the taste of these is dead on. Did I mention that my oldest asked if I had gotten them at Costco? These are some of his all-time favorite samples, so I was quite honored.
Cleaning Up a Recipe
As a part of our natural living journey, I try to make our meals cleanly, without the additives found in many processed foods.
Veggies Made Great Superfood cups sound great, but there are some questionable ingredients lurking in there as well, such as corn starch and maltodextrin from corn, and more corn starch, and even sugar.
Unfortunately, many 'health foods' have a lot of hidden junk in them.
The corn is an issue for me for two reasons, one being that it is likely GMO since this is not certified organic, and the other is that is causes my children to become aggressive (here is one mom's story about helping her son's ODD by removing corn from his diet)
I did use only cauliflower rice instead of real rice because I had forgotten about the rice in, but we did not miss the rice at all.
Copycat Veggies Made Great Cups
1 12oz bag of frozen mixed vegetables, thawed
1 10oz bag of frozen chopped spinach, thawed
1 16oz bag of riced cauliflower
1 tsp sea salt
1 tsp freshly cracked pepper
1 1/2 tsp onion powder
1 tsp garlic powder
8 eggs
1/4 cup heavy cream
3 tbsp cassava flour
1 1/2 cup Mexican Blend shredded cheese
Preheat oven to 400°. Place 8 large, or 16 regular sized silicone muffin cups on a cookie sheet.
Mix all ingredients in a large bowl and allow to set for about 5 minutes.
Fill muffin cups to the top (these do not rise).
Bake for about 30 minutes for large cups, or about 15 for regular sized cups, or until a tester comes out clean.
Remove from cups as soon as you can handle them and allow to cool for about 5 minutes before eating.
Notes
Spinach is one veggie that I try to make sure that we do organic with because it has been high on the dirty dozen list for a few years.
I used an organic mixed vegetable bag that had carrots, pea, corn, and green beans, but I think next time I will probably see if I can just get peas and carrots.
Fine pink sea salt is what I used, but any fine salt will work.
Freshly cracked pepper is something that I am funny about. Preground pepper just does not offer the same flavor.
These can definitely be made in the mini muffin cups, but timing on those would be much different, so please watch them carefully.
I had the preshredded Mexican Cheese Blend on hand already, but next time I think I am going to try it with sharp cheddar.
Conclusion
A lovely way to get more vegetables in your diet. This was a nice, fairly quick breakfast that I thew together on one of our errand mornings.
Since they are in cup form, they are pretty easily transported (read, tossed to kids in the car on the way to pickup groceries), but be sure to allow them to cool, you could even break them in half to help the process along.
Very similar to egg cups that I have made in the past (spinach, ham and egg), but these are more veggie based with just enough egg, heavy cream and cassava flour to bind them. I plan to share that recipe (that my children call Green Eggs and Ham Cups) in the future, but for now, you can check out some more of my recipes by clicking on the links below!
Have you ever tried making a copycat recipe? Do you like experimenting in the kitchen?