{This post may contain affiliate links. That means that I earn a commission if you make a qualifyingpurchase through my links (such as Amazon), but it does not change the price that you pay. For more information, please see my disclaimer page.}
Natural Cleaning
Ridding our home of chemicals and doing things as naturally as possible has been a passion of mine since we found out we were expecting our first baby over three years ago.
Cleaners today are filled with chemicals that have been linked to a whole host of health issues.
Choosing to do away with these products is about  being a good steward of our bodies (1 Corinthians 6:19) and our world.
Natural cleaners you can buy can be pricey. Making our own saves a lot.
Allowing us to be better stewards of our finances as well.
Clean Mama, Becky Rapinchuk, has a book that I recently got.
Becky has kindly allowed me to share this recipe for Lavender Lemon Disinfecting Spray with you as a taste of what is in the book. Along with the recipes, Becky shares some helpful tips and information about cleaning and the ingredients used in her recipes. She also shares some amazing check lists.
This post contains affiliate links. That does not change the price that you pay, but it gives me a small commission.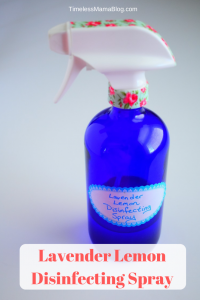 Lavender Lemon Disinfecting Bathroom Spray
1/2 cup white vinegar
1/2 cup vodka (excellent germ-killing properties)
10 drops lavender essential oil
10 drops lemon essential oil
1 1/2 cups water (distilled or boiled and cooled)
Mix all ingredients, using a funnel, pour into a pray bottle. Give a good shake and spray your bathroom surfaces.
Glass spray bottles are best to use as essential oils can cause plastics to leech some pretty nasty stuff into your cleaner. Here are some great ones.
If you want to check out of the great recipes in the book, you can check it out here.
Becky's instructions :
Let it sit for about 10 minutes (to kill germs), and then wipe clean with a microfiber cloth.  In the bathroom it's important to avoid any cross-contamination so I wipe in this order with separate cloths – mirror, sink, tub/shower, toilet.
She notes that if your spray bottle is 16 oz, you can simply cut the recipe in half.
Since this has vinegar in it, it should not be used on marble counters.
Check out the original post here. You can click here for Beck's Speed Clean You Bathroom Post.