{This post may contain affiliate links. That means that I earn a commission if you make a qualifyingpurchase through my links (such as Amazon), but it does not change the price that you pay. For more information, please see my disclaimer page.}
Scriptures For Overwhelmed and Weary Moms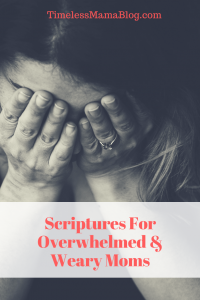 Overwhelmed and weary. I think every mom, if she is honest, will admit being there at some point. Days that we need to be reminded of the joy that we can have. Days where His grace is enough.
With three little 5 and under, and one on the way, I often find myself there. "One of those days" and "the struggle is real" can usually describe a few days each week. Especially the last week. The Tough Day Playlist has played a lot lately.
On those days, I have to remember to get in the Word.  To renew my mind. The make sure that I am getting drunk in the Spirit. When Satan wants to get you down, scripture is a great way to combat him. When Satan was tempting Jesus in the desert, Jesus-THE WORD, used the Word of God to counter Satan's use of scripture.
Here Are Some To Put In Your Arsenal (Emphasis Mine)
Renewing Your Mind
Earlier this week I share about how important this is (especially for moms) in the first post of this series, Renewing Your Mind, please take a minute to check it out!
Peace and Rest
 "Come to Me, all who are weary and heavy-laden, and I will give you rest. "
Matthew 11:28
Nothing compares to the rest that is found in Christ.
  The steadfast of mind You will keep in perfect peace, Because he trusts in You.
Isaiah 26:3
The peace that Jesus gives is not what we think of as peace. It is not necessarily the absence of conflict, but a peace that passes understanding because we know who is in control.
 A Psalm; a Song at the Dedication of the House. A Psalm of David. I will extol You, O LORD, for You have lifted me up, And have not let my enemies rejoice over me.  O LORD my God, I cried to You for help, and You healed me.  O LORD, You have brought up my soul from Sheol; You have kept me alive, that I would not go down to the pit. Sing praise to the LORD, you His godly ones, And give thanks to His holy name.  For His anger is but for a moment, His favor is for a lifetime; Weeping may last for the night, But a shout of joy comes in the morning.
Psalm 30:1-5
  Do you not know? Have you not heard? The Everlasting God, the LORD, the Creator of the ends of the earth does not become weary or tired. His understanding is inscrutable.  He gives strength to the weary, And to him who lacks might He increases power.  Though youths grow weary and tired, And vigorous young men stumble badly,  Yet those who wait for the LORD Will gain new strength; They will mount up with wings like eagles, They will run and not get tired, They will walk and not become weary.
Isaiah 40:28-31
We must rely on the Lord and His strength, His power. He gives us exactly what we need.
  But as for me, I shall sing of Your strength; Yes, I shall joyfully sing of Your loving kindness in the morning, For You have been my stronghold And a refuge in the day of my distress.
Psalm 59:16
When we start out the day with praise, it sets the tone for the rest of the day. Remembering God's loving kindness is a great way to start the day.
 "These things I have spoken to you, so that in Me you may have peace. In the world you have tribulation, but take courage; I have overcome the world."
John 16:33
This goes to both peace and rest and trials, but remembering that in Him we have peace is important.
  "Have I not commanded you? Be strong and courageous! Do not tremble or be dismayed, for the LORD your God is with you wherever you go."
Joshua 1:9
Remembering that He is always with us is such a comfort!
"For My thoughts are not your thoughts, Nor are your ways My ways," declares the LORD.  "For as the heavens are higher than the earth, So are My ways higher than your ways And My thoughts than your thoughts."
Isaiah 55:8-9
In our lives, we have our plans. God's plans do not always match those plans. Remembering that, ultimately, He is in controls is a source of peace.
Now may the God of hope fill you with all joy and peace in believing, so that you will abound in hope by the power of the Holy Spirit.
Romans 15:13
Remembering the joy that we can have in Christ is another source of peace that we have.
 "When you pass through the waters, I will be with you; And through the rivers, they will not overflow you. When you walk through the fire, you will not be scorched, Nor will the flame burn you."
Isaiah 43:2
Another great reminder that God is with us. We are in His hand.
 Shout for joy, O heavens! And rejoice, O earth! Break forth into joyful shouting, O mountains! For the LORD has comforted His people And will have compassion on His afflicted.
Isaiah 49:13
We serve a compassionate God, one that comforts His people! What a reason to rejoice!
 For the choir director. A Psalm of the sons of Korah, set to Alamoth. A Song. God is our refuge and strength, A very present help in trouble.
Psalm 46:1
Remembering to run to our Daddy for refuge and strength is important.
 My help comes from the LORD, Who made heaven and earth.
Psalm 121:2
Our help comes from the Lord who made the universe, from nothing! What more do we need?
"Be strong and courageous, do not be afraid or tremble at them, for the LORD your God is the one who goes with you. He will not fail you or forsake you."
Deuteronomy 31:6
He will not fail, nor forsake you. You are in His hand.
"For the mountains may be removed and the hills may shake, But My loving kindness will not be removed from you, And My covenant of peace will not be shaken," Says the LORD who has compassion on you.
Isaiah 54:10
No matter what we go through, God's loving kindness and covenant of peace will not be shaken.
 Now on the last day, the great day of the feast, Jesus stood and cried out, saying, "If anyone is thirsty, let him come to Me and drink."
John 7:37
Jesus truly gives the living waters that satisfy our souls. When we are satisfied in Him, it makes things much more bearable.
 In the same way the Spirit also helps our weakness; for we do not know how to pray as we should, but the Spirit Himself intercedes for us with groanings too deep for words;  and He who searches the hearts knows what the mind of the Spirit is, because He intercedes for the saints according to the will of God.  And we know that God causes all things to work together for good to those who love God, to those who are called according to His purpose.
Rom 8:26-28
There is such peace in knowing that all things-all things– work together for the good of those who love God! And that even when we do not have the words to pray in our hard times, that we have the Spirit who intercedes for us.
So then, brethren, stand firm and hold to the traditions which you were taught, whether by word of mouth or by letter from us. Now may our Lord Jesus Christ Himself and God our Father, who has loved us and given us eternal comfort and good hope by grace, comfort and strengthen your hearts in every good work and word.
2 Thessalonians 2:15-17
We are loved. We have eternal comfort. We have good hope. We can comfort and strengthen our hearts in every good work and word.
Now may the Lord of peace Himself continually grant you peace in every circumstance. The Lord be with you all!
2 Thessalonians 3:16
In every circumstance. It is not going to be easy. Jesus warned that in this world we will have troubles.
 Draw near to God and He will draw near to you. Cleanse your hands, you sinners; and purify your hearts, you double-minded.
James 4:8
Drawing near to God is so important for peace and rest.
 Let the peace of Christ rule in your hearts, to which indeed you were called in one body; and be thankful.
Colossians 3:15
I shared Monday how important thanksgiving and gratitude are in our lives and to renewing our minds. It makes it much easier to let Christ's peace (which is not like the world's peace), rule our hearts.
  I can do all things through Him who strengthens me.
Philippians 4:13
Often when this verse is quoted the emphasis is on "I can", and not "Him who". It is only through Him that we can do things, especially hard things.
 Therefore humble yourselves under the mighty hand of God, that He may exalt you at the proper time, casting all your anxiety on Him, because He cares for you.  Be of sober spirit, be on the alert. Your adversary, the devil, prowls around like a roaring lion, seeking someone to devour.  But resist him, firm in your faith, knowing that the same experiences of suffering are being accomplished by your brethren who are in the world. After you have suffered for a little while, the God of all grace, who called you to His eternal glory in Christ, will Himself perfect, confirm, strengthen and establish you.
1 Peter 5:6-10
Taking our worries and problems to God should be our first action, not our last resort. He cares how you are feeling. About your well-being.
Living like we have an enemy after us is important. He is serious, and will do what he can to get us distracted and off track.
God will use this for your good, and will strengthen you.
 See how great a love the Father has bestowed on us, that we would be called children of God; and such we are. For this reason the world does not know us, because it did not know Him. …  Do not be surprised, brethren, if the world hates you.
1 John 3:1, 13
How great is His love!
Sometimes our trials are not everyday things, but externally sourced. It is important to remember that we are not promised an easy road.
 You are from God, little children, and have overcome them; because greater is He who is in you than he who is in the world.
1 John 4:4
Greater is He that is in you than He who is in the world! The same power that raised Jesus from the dead is in you!
 But we have this treasure in earthen vessels, so that the surpassing greatness of the power will be of God and not from ourselves;  we are afflicted in every way, but not crushed; perplexed, but not despairing;  persecuted, but not forsaken; struck down, but not destroyed;  always carrying about in the body the dying of Jesus, so that the life of Jesus also may be manifested in our body.
2 Corinthians 4:7-10
If we did everything effortlessly, if everything ran smoothly and we could do it all, where would the room for Christ to shine and show His power be?
Afflicted, not crushed; perplexed, not despairing; persecuted, not forsaken; struck down, not destroyed…
We must daily die to self so that Jesus can be manifested in our bodies.
  And He has said to me, "My grace is sufficient for you, for power is perfected in weakness." Most gladly, therefore, I will rather boast about my weaknesses, so that the power of Christ may dwell in me.  Therefore I am well content with weaknesses, with insults, with distresses, with persecutions, with difficulties, for Christ's sake; for when I am weak, then I am strong.
2 Corinthians 12:9-10
We should take courage in being weak, when we cannot do it all, for then it is a chance for Christ to dwell in us. There are days when His grace is enough.
 Therefore encourage one another and build up one another, just as you also are doing. But we request of you, brethren, that you appreciate those who diligently labor among you, and have charge over you in the Lord and give you instruction,  and that you esteem them very highly in love because of their work. Live in peace with one another.  We urge you, brethren, admonish the unruly, encourage the fainthearted, help the weak, be patient with everyone.  See that no one repays another with evil for evil, but always seek after that which is good for one another and for all people.  Rejoice always;  pray without ceasing; in everything give thanks; for this is God's will for you in Christ Jesus.
1 Thessalonians 5:11-18
I feel like this is motherhood in a nut shell…Encouraging, building up, praising good done, living in peace with one another, admonishing the unruly, helping the weak, being patient, seeing that no one repays evil for evil, seeking the best good.
It does say be patient with everyone…no qualifiers given. I admit readily that I struggle with that sometimes…especially when it is the 100th time I have told someone to do something….but then how many times does God have to tell me something? How many times has He been patient with me?
Rejoice….always! In everything give thanks….it is not always easy.
When we have a constant, prayerful connection it is much easier to have a joyful spirit and give thanks, even in the hard times…
 For we are His workmanship, created in Christ Jesus for good works, which God prepared beforehand so that we would walk in them.
Ephesians 2:10
God has prepared these good works for us to walk in. He crafted you for a specific purpose. Put you where you are for a reason. Chosen you as the mother of you children, as the spouse for your husband.
 Wait for the LORD; Be strong and let your heart take courage; Yes, wait for the LORD.
Psalm 27:14
Waiting is hard, but being still, really taking time to acknowledge Him as Lord of your life is important. We can take courage in the fact that we are not God.
 From the end of the earth I call to You when my heart is faint; Lead me to the rock that is higher than I.
Psalm 61:2
I have always found the psalms so encouraging. Many times when I do not know what to pray I will read then, and usually I find something that expresses perfectly how I feel.
 When my spirit was overwhelmed within me, You knew my path. In the way where I walk They have hidden a trap for me.
Psalm 142:3
Even when we are overwhelmed, God knows our path. Even when we cannot see it, He does. That is such a source of peace and comfort for me.
   The LORD is my strength and my shield; My heart trusts in Him, and I am helped; Therefore my heart exults, And with my song I shall thank Him.
Psalm 28:7
We must rely on Him for strength and protection. When our heart fully trust Him, it is a tremendous comfort.
 Whatever you do, do your work heartily, as for the Lord rather than for men, knowing that from the Lord you will receive the reward of the inheritance. It is the Lord Christ whom you serve.
Colossians 3:23-24
Remembering why we serve is key. When we focus on Him, the overwhelm begins to fade.
Finally, be strong in the Lord and in the strength of His might. Put on the full armor of God, so that you will be able to stand firm against the schemes of the devil. For our struggle is not against flesh and blood, but against the rulers, against the powers, against the world forces of this darkness, against the spiritual forces of wickedness in the heavenly places. Therefore, take up the full armor of God, so that you will be able to resist in the evil day, and having done everything, to stand firm.  Stand firm therefore, HAVING GIRDED YOUR LOINS WITH TRUTH, and HAVING PUT ON THE BREASTPLATE OF RIGHTEOUSNESS,  and having shod YOUR FEET WITH THE PREPARATION OF THE GOSPEL OF PEACE;  in addition to all, taking up the shield of faith with which you will be able to extinguish all the flaming arrows of the evil one. And take THE HELMET OF SALVATION, and the sword of the Spirit, which is the word of God.  With all prayer and petition pray at all times in the Spirit, and with this in view, be on the alert with all perseverance and petition for all the saints
Ephesians 6:10-18
Preparing for daily spiritual warfare that goes on is one thing that helps defeat overwhelm. When we are prepared for the attack we are not blind sided, it gives us footing against overwhelm.
Remembering that our battle is not against flesh and blood is a big thing.
And let us not grow weary of doing good, for in due season we will reap, if we do not give up.
Galatians 6:9 (ESV)
Satan wants nothing more than to destroy us and have us give up. Doing good, fulfilling your calling as a wife and mother is not always easy. Do not lose heart dear one!
I hope these verses have encouraged you! What verses do you like to turn to when you are weary and overwhelmed?