Personal Bible study is crucial to a Christ follower's walk. Think of it as food for your soul.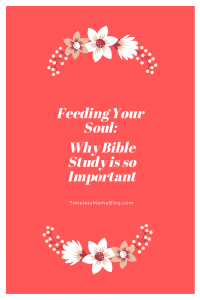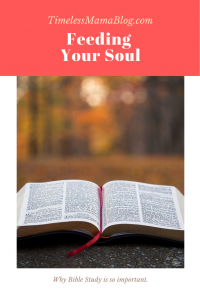 How can a young person stay pure?
By obeying your word.
I have tried hard to find you—
don't let me wander from your commands.
I have hidden your word in my heart,
that I might not sin against you.

Psalm 119:9-11
(Great chapter to read when you get a minute!)
If we just go to church to be fed, we starve. Just think of what eating once or twice a week would do to your physical body.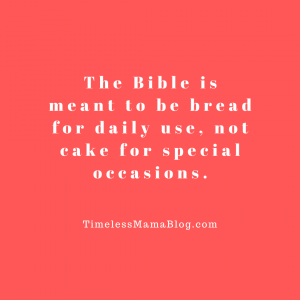 Having a consistent time of study has always been a struggle for me. I wish I had the habit down. Now, with small kids, it is even harder, but I need it more. This year I am striving to be more consistent in my time in the Word.
Giving yourself grace when you miss is important. What would your physical body go through if you gave up on eating because you missed a meal? You might even just eat more the next time you get to.
Knowing Scripture is vital.
Put on the full armor of God, so that you will be able to stand firm against the schemes of the devil. For our struggle is not against flesh and blood, but against the rulers, against the powers, against the world forces of this darkness, against the spiritual forces of wickedness in the heavenly places. Therefore, take up the full armor of God, so that you will be able to resist in the evil day, and having done everything, to stand firm.

Ephesians 6:11-13
Our struggle is not against flesh. There is a spiritual battle raging for our hearts and minds and souls. How can we prepare to stand firm? What is the armor of God?
Stand firm therefore, HAVING GIRDED YOUR LOINS WITH TRUTH, and HAVING PUT ON THE BREASTPLATE OF RIGHTEOUSNESS, and having shod YOUR FEET WITH THE PREPARATION OF THE GOSPEL OF PEACE; in addition to all, taking up the shield of faith with which you will be able to extinguish all the flaming arrows of the evil one. And take THE HELMET OF SALVATION, and the sword of the Spirit, which is the word of God.

Ephesians 6:14-17
In Matthew 4, we see that Jesus is tempted by Satan. What does Satan use? Perverted, or twisted Scripture.
Satan knows Scripture. He twists it against us.
Jesus used Scripture here. Ever think about why? I mean, He was the Word made flesh. He could have said anything to Satan and it would have been The Word.
I think it is to show us how to handle Satan's attacks.
Ephesians 6:17 says that our (one) offensive weapon is the Sword of the Spirit which is ….the Word of God.
Let us think about a sword for a moment. Can one simply pick it up and use it properly? You may be able to clumsily win a small battle, but when your enemy knows swords, you do not stand much of a chance. You have to KNOW your weapon. Satan KNOWS the Word. How can we know the Word if we do not study it?
In today's culture, we can quote sports stats, or celebrities, play candy crush or other games for hours, but what about knowing the Word?
I will study your commandments
and reflect on your ways.

Psalm 119:15
If we read and keep the word with us all day in our thoughts, it will become second nature. We will begin using it in our daily lives. It will spill over into our lives.
Your laws please me;
they give me wise advice.

Psalm 119:24

Make me walk along the path of your commands,
for that is where my happiness is found.

Psalm 119:35
Do you delight in the word? Do they please you? Is your happiness found in the Word?
My soul weeps because of grief;
Strengthen me according to Your word.

Psalm 119:28
I have been soul weary much of the past year, but when I delve into the World, it helps me to put things back in perspective.
Lord, give me your unfailing love,
the salvation that you promised me.
Then I can answer those who taunt me,
for I trust in your word.

Psalm 119:41-42
When I choose to believe and trust in the Word of God, when I KNOW the Word enough to trust in it, I can use it to answer Satan when he starts trying to get me down.
I have typed and erased and retyped this next bit, it keeps coming back, so I think it should be here.
This is the message we have heard from Him and announce to you, that God is Light, and in Him there is no darkness at all. If we say that we have fellowship with Him and yet walk in the darkness, we lie and do not practice the truth; but if we walk in the Light as He Himself is in the Light, we have fellowship with one another, and the blood of Jesus His Son cleanses us from all sin.

1 John 1:5-7
John does not mince words, does he? God is light and in Him is no darkness. If we say we have fellowship with him but still walk in darkness, we lie. We are hypocrites. But IF we walk in the Light, we have fellowship with believes and the blood of Jesus cleanses us.
Dear one, are you walking in the light today? How do we know what walking in light looks like if we are not in the Word?
If you have a regular quiet time, what are you reading in the Word?
This is a longer post than I usually like to do, but it is a topic I am passionate about!