{This post may contain affiliate links. That means that I earn a commission if you make a qualifyingpurchase through my links (such as Amazon), but it does not change the price that you pay. For more information, please see my disclaimer page.}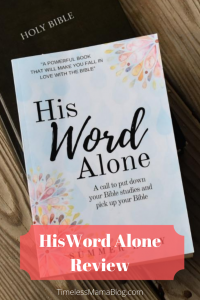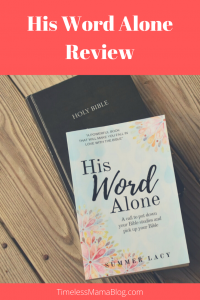 Feeding Your Soul
Bible study is something that I am passionate about. I have shared before the importance of individual Bible study in my post on Feeding Your Soul.
That's why when Summer Lacy asked for people to review her book, His Word Alone, I jumped at the chance. Summer very kindly offered to send two copies of His Word Alone-one for me to read and use and one to give away.
His Word Alone
These days Bible study guides are plentiful. To be sure they are great resources, but relying on them alone is like expecting to grow up never feeding yourself. Always relying on someone else to feed you. As a result so many become Spiritually malnourished.
In her book, Mrs Lacy walks readers through studying the Word for themselves, sharing her heart for Bible study:
"My goal is not to compel you to do away with such Bible study resources. However, we can no longer ignore the reality that all too often we substitute them for the Bible itself- snacking on and picking at the Word of God instead of greedily consuming it.
When our diet of Bible consumption consists mostly of excerpts from Scripture given in devotionals, small segments of Bible reading done through Bible studies and whatever passage the pastor is preaching on at church each week, we pass on the opportunity to experience God for ourselves.
To do this, we must dig our own hands down into the beauty of Scripture through grit, grime, and ultimately, systematically reading and studying the Bible on our own my contention is that, in our study on Bible materials, we have attempted to substitute man's word about God's Word for God's Word itself, and we're missing God in the process."
Her passion is evident.
"The reason I am so passionate about the serious, individual study of
God's Word by Christians is because it is the very means through which
the Lord has claimed my heart and transformed my life.
His Word has met me right where I was at the time, no matter where or when. It has relentlessly pursued me through the hard work of marriage, the endless delights and difficulties of raising small children, every insecurity and uncertainty a thirty-something-stay-at-home mom could muster, and all the other ups, downs, ins, and outs of everyday life.
There is no pain to which His Word does not speak; no joy that it does not birth.
If God speaks to me in this powerful of a manner through His Word, then He can speak to you in this very same way, too. It is my desperate desire that all women would come to know the power of His Word as they commit
themselves wholeheartedly to the study of it.
Ladies, the Bible is enough!
His Word alone is all we need. There comes a time when every good Bible
study girl needs to push her Bible studies aside so she well alone in
the presence of God and His all-sufficient Word."
In her book, Summer guides readers through common misconceptions and excuses people have for personal Bible study.
Breaking down the why and how she helps her readers prepare for their study, from supplies to suggestions on choosing a place to begin their journey.
She sets her readers up with ideas for the digging deep process, including background research and questions to really help dissect the Word to get more out of it.
I will say, I would recommend a word for word translation (ESV or NASB) for personal study as opposed to a thought for thought (which is technically a paraphrase still, though most thought for thought translations are not considered paraphrases).
She mentions the NIV, which I have studied a lot before more recent revisions. Since these revisions I would not really recommend this translation.
Over all, it was a great book, even for someone who is passionate about personal study, it was a nice way to breath new life into my personal study.
Making sure my heart and motivation are right. Checking the lenses through which I view God's word is always a good thing.
As I mentioned before, Summer sent two copies, one of which is to giveaway, so that is just what I am doing.