{This post may contain affiliate links. That means that I earn a commission if you make a qualifyingpurchase through my links (such as Amazon), but it does not change the price that you pay. For more information, please see my disclaimer page.}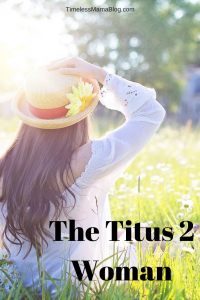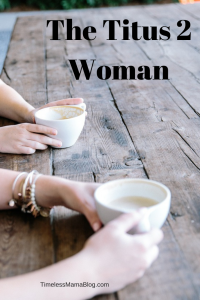 The Titus 2 Woman
We hear a lot about the Proverbs 31 woman, and rightly so. She is an example of excellence in managing a household.
We hear less about the Titus 2 woman though. While "she" is just instructions for women, they are instructions for women. I decided to write this series a while back, but with so little extra time it has just been on the back burner.
I recently did a short study on Titus with some ladies from church and it really got me digging deep into the word. Studying the words. Now I am just going to try to get all of my Bible study notes into something readable.
Please grab your tea (or coffee if you drink it) and get comfy. This will be more than one post, and part of it will be guest posted.
Read Titus
Before we jump in, please take a few minutes to pray and read over Titus. At 3 short chapters, it is not too hard to do.
Background
Qualifications for elders, instructions for the young and old, and instructions for godly living make up the bulk of Titus.
Titus has traveled with Paul, and delivered other letters. He was a gentile believe, and even went to Jerusalem with Paul as an example of the non-Jewish Christians (Galatians 2:1-4). Titus is in Crete, helping set up the new church.
Laying the Groundwork
I am not doing too much of the word-study stuff with the text preceding Titus 2:3-5, but I do want to go back to before the "but" and "likewise" (which means that what comes before it related).
Paul give instructions for the qualification of elders. He goes on to Titus 1:15-16, which is where we will pickup.
To the pure, all things are pure; but to those who are defiled and unbelieving, nothing is pure, but both their mind and their conscience are defiled.

They profess to know God, but by their deeds they deny Him, being detestable and disobedient and worthless for any good deed.

Titus 1:15-16 NASB
Over and over in Scripture makes it clear that our actions speak louder than words (Matthew 5:16; 7:21-23, 1 John 3:18, James 1:22; 2:17; 3:13 to name a few). Here it makes it pretty clear.
I found this challenging to me. Have I let my mind become defiled? Do my deeds line up with what I say?
But as for you, speak the things which are fitting for sound doctrine.

Older men are to be temperate, dignified, sensible, sound in faith, in love, in perseverance.

Titus 2:1-2
The word used for older here translates to:
an old man, an aged man

ambassador
As Christians, we are all ambassadors of Christ. I need to be more mindful of that fact.
The word used for sensible is sōphrōn, which translates to:
of a sound mind, sane, in one's senses

curbing one's desires and impulses, self-controlled, temperate
Am I self-controlled?
The word used for sound translates:
to be sound, to be well, to be in good health

metaph.

of Christians whose opinions are free from any mixture of error

of one who keeps the graces and is strong
Do I allow anything other than God to mix into my walk? I have shared that What You Eat Matters, am I letting in things that are contrary to God's word?
The Titus 2 Woman
Older women likewise are to be reverent in their behavior, not malicious gossips nor enslaved to much wine, teaching what is good, so that they may encourage the young women to love their husbands, to love their children, to be sensible, pure, workers at home, kind, being subject to their own husbands, so that the word of God will not be dishonored.

Titus 2:3-5
Women are to likewise be reverent in their behavior.
What does that even mean?
The word used for reverent is hieroprepēs, which translates "as becoming or befitting for one of God".
Is my demeanor, deportment, bearing (behavior) befitting one of God?
Gossip
That word alone could have its own post. Some women in the church do outright gossip, which is wrong, but how many times have we shared 'prayer requests' and gone into gory details?
Enslaved to Much Wine
Enslaved is literally to make one a slave, to reduce to bondage.
When it feels like you need a glass, that you cannot get through the night/day without one, it is time to step back and think about that.
I do not believe it is necessarily sinful to partake of wine, but excess, or even if it is coming before God-saying we need a glass of wine instead of we need Jesus-is that because He is not enough?
I guess the wine topic could use its own post as well, but let us get back to the text at hand!.
Teaching What is Good
Teaching is an intentional act most of the time. We cannot just expect our kids to see us reading a book and figure out reading that way. We must show them, purpose to teach them. Often, more is caught than taught.
Which means we must be intentional about our time together. Purposing to pass on these things to other women. We must live our lives to be models of the Gospel, and all good things.
Encourage
Encourage is something that gets thrown around a lot these days. Usually we expect a warm, fuzzy feeling when we are 'encouraged'.
Here is the word sōphronizō, which means:
restore one to his senses

to moderate, control, curb, disciple

to hold one to his duty

to admonish, to exhort earnestly
Sounds pretty different.
Today we love the 'judge not' philosophy, do we not? Again this could be another post, but Scripture does say that we need to hold brothers and sisters in Christ accountable (Galatians 6:1, Titus 3:10, 2 Timothy 3:16-17).
Our hearts and motives need to be in the right place.
The flip side to that is that those who are being encouraged need to be teachable and willing to learn.
I wrote about Finding a Mentor last year.
Younger Women
Younger in age, or even spiritually. And just because we are the younger woman, does not mean that we cannot pour into others (1 Timothy 4:12).
Have you ever seen pictures of a tower of champagne glasses at a fancy party? The champagne is poured in the top glass and over flows into countless ones beneath it?
That's what I picture when I think of how we are supposed to be poured into and, in turn, pour into others.
Love Their Husbands
One day I will have a boat load of posts inspired by this one!
In this day and age, marriage is sadly often seen as disposable. People "fall out of love" and forget the "till death do us part". We think love should be the romantic, warm fuzzies.
I actually was just going to breeze by this one because it seems pretty straight forward, right?
The word used for love here is philandros, which is literally "loving her husband", but the root of that is philos, which means:
I. Friend, to be friendly to one, wish him well
a friend

an associate

he who associates familiarly with one, a companion
This is talking about being a friend and companion to your husband. It is not about warm fuzzies. It is not about romance. (I am not saying that these are bad things, but not what marriage should be based one. Such love is fleeting, not love like the Bible talks about. 1 Corinthians 13:4-8)
Love Their Children
Philotekos– loving one's offspring, being fond of one's children. Are we fond of our children in today's culture?
Quite a lot to chew on today!
Part two is now live over at Woman of Noble Character.