Today I am sharing 116 autumn inspired essential oil blends for your diffuser!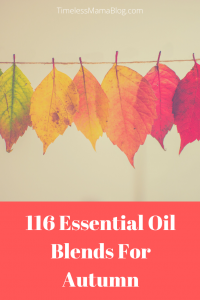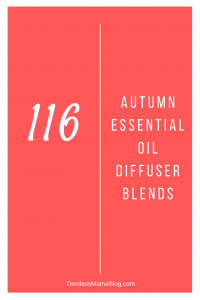 Autumn is in the air. If you have been around here long, you know that I like to make our home smell good naturally, and often use essential oils to do it (you can read more about that in Diffusing Essential Oils, 30 Mood & Energy Boosting Essential Oil Diffuser Blends, and Essential Oil Scent Ideas). I have been working on this for a while here and there, but I am finally getting it all together.
As always, safety is very important when using essential oils. Many MLM oil companies advocate unsafe use, so be sure that you make sure the oils that you use are safe for children, and if you are pregnant or nursing (Example, Rosemary should not be used while pregnant or around children under 10, peppermint should be used with caution while nursing and not around children under 10, eucalyptus should not be used around children under 10).
116 Essential Oil Blends for the Autumn Season
6 d Orange
1 d patchouli
1 d ginger
3 d fir
1 d lemon
4 d orange
1 d nutmeg
1 d cinnamon
1 d clove
5 d orange
2 d cinnamon
1 d clove
2 d cedar wood
3 d bergamot
3 d orange
1 d ginger
1 d lavender
2 d bergamot
3 d clary sage
2 d lemon
2 d wintergreen
1 d patchouli
1 d sandalwood
1 d orange
1 d lemon
2 d ylang ylang
4 d cypress
2 d clove
2 d amber
2 d cinnamon
3 d orange
2 d lemon
3 d patchouli
1 d clove
3 d orange
3 d balsam fir
3 d cinnamon bark
1 d lavender
2 d marjoram
1 d orange
1 d juniper
3 d orange
2 d sage
2 d patchouli
3 d tangerine
6 d cinnamon
2 d pine
1 d frankincense
1 d patchouli
1 d lavender
4 d orange
2 d juniper
3 d cedar wood
1 d clove
3 d frankincense
3 d myrrh
2 d sandalwood
1 d clary sage
5 d tangerine
3 d cinnamon
1 d clove
3 d frankincense
2 d lime
2 d peppermint
2 d orange
3 d lavender
1 d pine
3 d orange
3 d patchouli
1 d clove
1 d ginger
1 d cinnamon
1 d clove
2 d coriander
2 d cinnamon
2 d vanilla oleoresin
3 d orange
5 d orange
4 d white fir
3 d cinnamon
5 d eucalyptus
3 d juniper
3 d lemon
2 d white fir
2 d nutmeg
2 d sage
1 d orange
2 d lime
2 d sage
3 d white fir
2 d cinnamon
2 d clove
1 d ginger
3 d oregano
3 d thyme
1 d clove
5 d orange
1 d cinnamon
1 d clove
1 d nutmeg
2 d arborvitae
2 d cedar wood
2 d sandalwood
4 d pine
3 d mandarin
2 d rose
4 d orange
2 d clary sage
2 d patchouli
3 d frankincense
2 d cedar
2 d ylang ylang
1 d vetiver
4 d orange
2 d cinnamon
2 d ginger
3 d blue spruce
2 d ylang ylang
2 d orange
1 d balsam fir
2 d cedar wood
1 d pine
1 d cypress
1 d lavender
5 d spearmint
4 d cardamom
4 d orange
3 d frankincense
2 d cardamom
2 d cedar wood
2 d tangerine
5 d cinnamon
1 d clove
1 d nutmeg
4 d orange
3 d ginger
3 d cinnamon
4 d cypress
2 d fir
2 d sandalwood
3 d frankincense
1 d cedar wood
2 d fir
4 d orange
3 d cinnamon
3 d ginger
2 d cardamom
2 d cinnamon
3 d nutmeg
2 d ginger
2 d cardamom
4 d orange
2 d clove
2 d sandalwood
3 d lime
1 d lemon
1 d eucalyptus
3 d balsam fir
1 d wintergreen
2 d cedar wood
4 d frankincense
2 d pine
2 d clove
1 d nutmeg
1 d ginger
2 d cinnamon
2 d orange
2 d grapefruit
1 d clove
1 d cinnamon bark
3 d frankincense
2 d orange
2 d lavender
2 d rosemary
2 d cedar wood
2 d bergamot
3 d patchouli
3 d orange
1 d nutmeg
3 d cinnamon
2 d clove
1 d nutmeg
2 d orange
2 d cassia
2 d patchouli
2 d orange
3 d orange
1 d ginger
1 d clove
2 d frankincense
3 d frankincense
1 d cedar wood
1 d fir
1 d rosemary
6 d spruce
2 d eucalyptus
2 d wintergreen
1 d rosemary
3 d cedar wood
3 d grapefruit
2 d cinnamon
3 d orange
2 d clove
2 d ginger
2 d frankincense
3 d ginger
2 d cassia
2 d clove
2 d arborvitae
2 d cardamom
2 d cassia
4 d orange
3 d frankincense
1 do ylang ylang
3 d clary sage
3 d frankincense
2 d tangerine
1 d clove
1 d patchouli
3 d orange
2 d juniper
1 d ginger
1 d clove
2 d pine
1 d frankincense
1 d patchouli
1 d lavender
4 d douglas fir
2 d cypress
2 d patchouli
2 d juniper
4 d cedar wood
3 d cassia
3 d orange
2 d juniper
3 d lavender
3 d cedar wood
2 d patchouli
3 d cinnamon
3 d cedar wood
2 d clove
6 d patchouli
4 d orange
2 d lavender
2 d cypress
2 d bergamot
2 d balsam fir
2 d cardamom
1 d clove
1 d grapefruit
1 d orange
1 d juniper
1 d cedar wood
1 d clove
2 d lavender
2 d cedar
2 d eucalyptus
2 d roman chamomile
5 d tangerine
3 d cinnamon
1 d clove
1 d white fir
2 d orange
1 d cassia
3 d orange
2 d frankincense
2 d cinnamon
3 d cardamom
2 d cinnamon
2 d clove
1 d ginger
3 d lemon
1 d clove
1 d cinnamon
3 d lemon
2 d orange
1 d clove
3 d orange
2 d clove
2 d rosemary
2 d lemon
3 d orange
1 d cinnamon
2 d clove
2 d cinnamon
2 d ginger
3 d orange
5 d bergamot
2 d clove
2 d cinnamon
2 d black pepper
3 d lime
5 d cinnamon
1 d clove
1 d nutmeg
1 d allspice
5 d orange
1 d ginger
1 d patchouli
1 d cinnamon
4 d tangerine
1 d balsam fir
1 d cinnamon
1 d eucalyptus
2 d frankincense
3 d orange
4 d cypress
3 d orange
2 d clove
2 d ginger
2 d frankincense
3 d fir
2 d cinnamon
1 d lemon
1 d orange
1 d tangerine
1 d lime
2 d fir
1 d myrrh
1 d orange
2 d cedar wood
2 d cassia
3 d orange
3 d cardamom
1 d cinnamon
1 d orange
1 d clove
3 d orange
3 d frankincense
2 d cassia
2 d lime
2 d lemon
1 d orange
1 d bergamot
1 d fir
3 d douglas fir
2 d cedar wood
1 d juniper
1 d geranium
1 d clary sage
1 d lemon
1 d cinnamon leaf
3 d frankincense
3 d vanilla oreoresin
2 d cedar wood
1 d cardamom
1 d tangerine
10 d patchouli
4 d orange
2 d lavender
2 d cedar wood
2 d clove
2 d juniper
2 d orange
5 d cardamom
2 d orange
1 d cinnamon
1 d clove
3 d orange
3 d patchouli
1 d clove
3 d orange
2 d clove
2 d rosemary
4 d orange
3 d clove
3 d cinnamon
2 d lemon
2 d clove
3 d frankincense
3 d patchouli
2 d spikenard
4 d orange
3 d cinnamon
3 d cardamom
3 d douglas fir
3 d frankincense
2 d sandalwood
2 d lavender
4 d orange
2 d cassia
2 d orange
4 d ginger
3 d cinnamon
2 d ylang ylang
6 d cinnamon
3 d tangerine
5 d lemon
3 d orange
2 d frankincense
2 d cinnamon
6 d orange
2 d frankincense
1 d cinnamon