{This post may contain affiliate links. That means that I earn a commission if you make a qualifyingpurchase through my links (such as Amazon), but it does not change the price that you pay. For more information, please see my disclaimer page.}
Essential Oil Gift Ideas
Essential oils are a wonderful tool that have helped my family a lot over the years. Chances are you know an 'oily' friend, and you may need a gift idea for them at some point, so here are my essential oil gift ideas.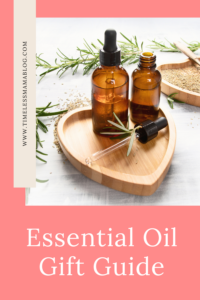 Essential Oil Diffuser
An essential oil diffuser is a great idea for an oily friend. It is one of the most useful things. I find that I prefer the no-water type, but they do not run for long. You can also find some lovely designs in ones that emit a cool mist along with the oils.
Waterless Diffusers (Nebulizers)
Cool Mist Diffusers
There are some advantages to using a cool mist essential oil diffuser. It can add moisture to your room. They are also usually less expensive and come in a lot of beautiful styles.
Essential Oil Safety
Using essential oils safely is important. These are my go-to books for reference on what oils are safe for what ages.
Please note, despite unsafe claims from some MLM oil companies, purity of oils, while important, does not guarantee safety. There are oils that should not be used in certain situations (around pets, young children, pregnant ladies, and some with health issues) no matter the purity. It is the actual constituents that would make them unsafe, not purity.
Essential Oil Jewelry
"Diffusing" essential oil jewelry is a lot of fun and very versatile.
Essential Oil Diffusers for the Car
These have come a long way in the past several years. You can also make your own gel car air freshener.
Conventional car fresheners are full of toxic chemicals, but you can make your car smell great without the junk.
Notebooks
Keeping track of your blends in one place is so nice. Here are a couple of notebooks with great pages for just that!
Labels
Labeling can be tricky, unless they are coated, even permanent marker wears off pretty quickly. I recommend self-laminating type labels.
These labels are so pretty, but I recommend that once you write on your label, cover it with packing tape and trim excess before applying to your bottle.
Roller Bottles
There are so many cute choices for roller bottles these days. They come in many, many different colors and shapes these days. Since oils need to be diluted to be used topically, roller bottles come in handy.
And check out these cute roller sleeve key fobs!
Pump Bottles
Pump bottle are very handy for homemade lotions and oils in a carrier such as face serum or massage oil.
Storage
Whether you are on the go or at home, you will need to store your essential oils
Miscellaneous Accessories
These are some fun, handy items.
Essential Oils
Oils themselves make great gifts. Purity IS important. You want to make sure that they are GC/MS tested. The brands that I personally use are Earthley, Plant Therapy, Eden's Garden, and NOW Foods.
Earthley
Earthley is newer on the scene of essential oils. They launched their line over the summer and they are fantastic! My favorite scent, Blue Bliss, was available this year over the summer and I stocked up. Their oils are sourced with the same attention to detail and product standards that they make all of their products with. You can check out their whole line here. They also make using around children very easy with marking their products kids safe. Earthley is a Christian woman owned small business.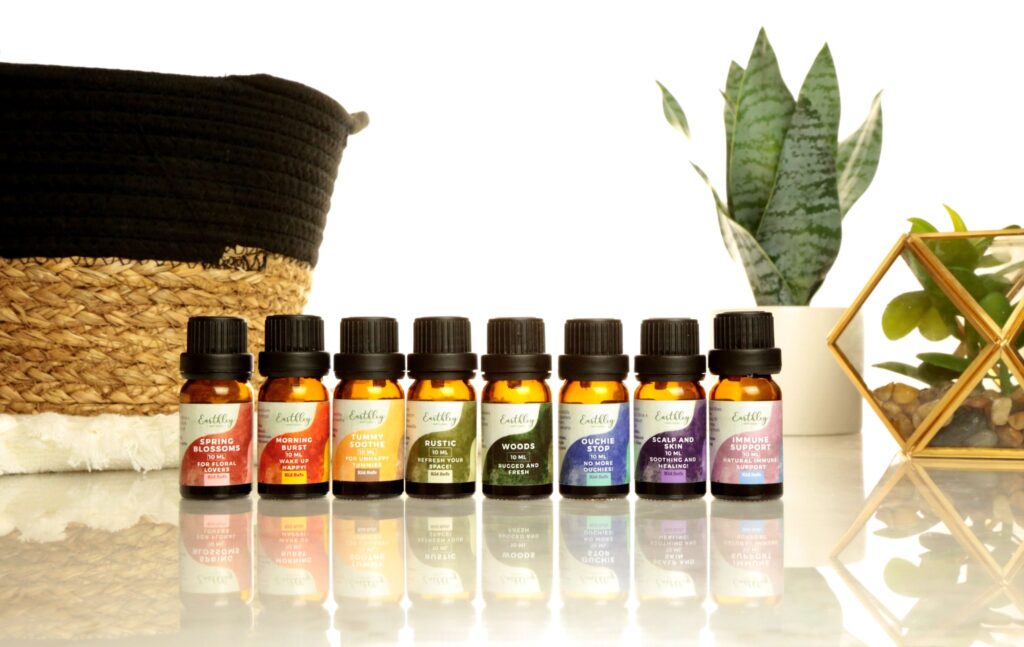 Plant Therapy
The majority of my oils are from Plant Therapy. They, too, are committed to quality in their products and work closely with Dr Tisserand on safety recommendations. You can check out all of their products here. These are some that we use the most as well as some gift sets. They do a pretty good job of labeling their kids safe oils and blends, which makes it easy to use them without a lot of double checking. I have a lot of the individual oils as well.
They also offer an oil of the month club. It should be noted that the oils included each month may not be child or pet safe, so that is a consideration.
Eden's Garden
Another Christian woman owned small business. Committed to quality, affordable products.
NOW Foods
I usually use NOW Foods brand for things that require a lot of oil, or for cleaning. I keep a 4 oz bottle of lemon oil in the house all the time.
Wrapping It Up
Did I miss anything? Have you ever gotten an oily gift? What would you include in an essential oil gift guide?