I am a huge fan of measuring our parenting by Scripture.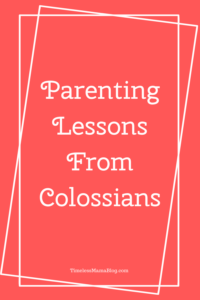 Colossians give us excellent instructions on living and how we are to interact with our brothers and sisters in Christ. We should view our parenting through the lenses of Scripture.
Here are some lessons that I have taken on parenting from Colossians
Colossians 1 A Prayer For Parenting
What a prayer. Prayer is big in our house. Prayer in parenting is important. This is such an amazing prayer for parents!
Colossians 2 Modeling Christ In Parenting
Are we helping our children roots their faith? To walk in Him? Establishing their faith? Are we cultivating a home overflowing with gratitude?
Are we allowing philosophies of this world to infiltrate our homes? Are we following empty human traditions?
Are we teaching our children about sin and the gravity of Christ's sacrifice? Do we take time to examine our lives and hearts for sins that may have crept in? We ourselves must be right with the Lord is we are to lead our children to Him.
Colossians 3 Putting on the New
Are we setting the example for our children in setting our minds on things above? On things that truly matter for eternity?
Are we filling our homes with things that bring focus back to the Lord, or focus on things of the world (not matter how innocent or harmless they maybe)?
Are we being vigilant to rid ourselves of anger (ouch!), wrath (ouch!), malice, salnder and obscene speech? Am I modeling the old self or the new self for my children?
That is a chunk!
When we interact with our children, do we have a heart of compassion? Are we kind? Are we humble? Are we gentle? Are we patient and bear with them?
Our children are our greatest blessings, and our greatest responsibility. Why should they be treated as less than we are told to treat our brothers and sisters in Christ? Would we call our friend the names we call our children? Would we speak to other adults as we speak to our children? Let us resolve to treat our children as we are called to treat others in Christ.
Do we model forgiveness to them?
Are our interactions cloaked in love that covers a multitude of sins?
Do we let the peace of Christ rule our hearts? Are we thankful? Are we teaching our children to be thankful?
Are we dwelling in the Word? Are we urging and advising our children in the way they should go according to Scripture?
Are we intentional in our serving the Lord? Are we thinking that everything we do is done in His name? If you were an ambassador for a foreign country, would they be please with your conduct or would you bring shame to your country? We are the first influence for Christ that our children will have.
This is directed at fathers, but it is also applicable to mothers.
Whatever you do…
Dishes…laundry…vacuuming…cooking…diaper changes…play time…breaking up sibling fights…
It's all for Him. It is the Lord Christ whom you serve!
Colossians 4 Back to Prayer
Back to prayer! I cannot emphasize how important it really is!
Keeping alert in prayer, with an attitude of thanksgiving. Do I keep alert in prayer? With an attitude of thanksgiving?
Are we praying that God would give us opportunities to teach our children about Christ? That He would give us words to say to make the most of those opportunities?
And if we are to conduct ourselves with wisdom among outsiders, how much more should we conduct ourselves with wisdom around our young, impressionable children? So that we can make the most of opportunities given us? Especially before our children come to Christ.
Is your speech grace-filled? Ouch. It is so easy to fall into this world's parenting habit of ragging on children.
Have you ever looked at your parenting through the lenses of Scripture? What are some lessons that you have learned?