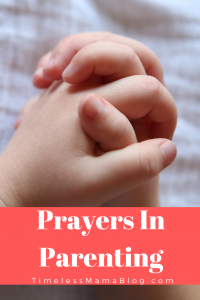 I have learned a lot about prayer over the years. This is the season of life I am in right now.
Our days are peppered with prayer. Blessings at meals, bedtime prayers and many in betwixt.
I could be identified as a 'gentle', attached parent.
There are times when I get frustrated. There are times when my kids get upset or frustrated, or do something they know they should not do. I try to make a conscious effort to turn to the Lord in theses times.
When I get upset, I pray out loud, asking God to help mama calm down, for Him to pour out His love on me so that it overflows onto my children. So that I can redirect them to Him.
When the kids get upset or frustrated, I pray with them.
We pray that God will help them calm down and communicate to mama what is wrong, what they need.
That God will give mama wisdom to know exactly what they need.
If I know what is wrong, I pray for that issue (Dear Jesus, please help B calm down. I know that he is feeling tired. Please help him just breath and calm down. Help him get some rest so that he can feel better.).
I have found this works best for my kids. Screaming in stores has been calmed and moods greatly improved by taking time to stop and pray. It works better than distracting with a toy or any other game I have tried.
I really just thought of it as a way to get through a situation until recently when my mom said she likes how I am teaching the kids to turn to the Lord when they are tired or frustrated. I guess I am, and I hope to pass along prayer as a first reaction to situations.
Our first response when we are tired and frustrated should be to refocus on the Lord and not our circumstances.
When the kids fight, we pray.
For understanding for both of them.
For self control.
That they would stop and think about what they are doing so that they can be sweet, and obey and stay safe.
That they would remember that being nice to each other makes God happy.
When the kids get in trouble, we stop and pray before we deal with consequences.
That God would help mama calm down, help the kids calm down.
Help the offending party remember to be nice and understand that what they did was not nice.
If they hurt their sibling they go give a hug and kiss to make them feel better.
We try to be in a Spirit of prayer throughout the day, because building faith at home is very important to us.
How do you weave prayer into your day?