{This post may contain affiliate links. That means that I earn a commission if you make a qualifyingpurchase through my links (such as Amazon), but it does not change the price that you pay. For more information, please see my disclaimer page.}
Summer Family Bucket List
A summer family bucket list is one way that I try to be intentional about making memories with our children.
Each season has its own unique things that we always try to do. Making a bucket list of them is a great way to keep your goals visible.
The pandemic has made the last few years harder, and we have had to get more creative in some ways, but spending quantity time is important because you never know when those quality time moments will happen.
Making Memories
This summer we will be adjusting to life with a new little one, so , while I am aiming high as always, I do not know how much of this we will get done, but we will be making memories with our new little one either way. I know that I do want to be intentional about making memories with the children.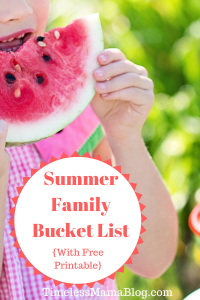 Our Summer Family Bucket List
Many of these are cheap or free, some take intentional scheduling, others are great spur of the moment things.
Make Popsicles
Make Gelatin
Make S'mores
Build a Camp Fire
Camp in the Backyard
Water gun fight
Play with water balloons
Go to the beach
Build a sand castle
Have a pillow fight
Make pizzas
Watch the stars
Make cupcakes
Find shapes in the clouds
Teach the children to climb trees
Eat watermelon and have a seed spitting contest
Rock painting/hunting
Slip and slide
Glow stick pool
Farm stand visit
Do science experiments
Do some craft projects
Hide and seek
Play in the sprinkler
Read 100 books
Have an Independence Day Scavenger Hunt
Go to dollar movies
Lowes or Home Depo Kids Workshop
Water balloon base-ball
Tin can stilts
Shadow puppet/ animal play
Write letters/cards
Bowling
Learn about sea shells/animals
Visit the aquarium
Make ice cream
Roll down a hill
Eat corn on the cob
Mini golf
Fly a Kite
Enjoy our veggies from the garden
Paint with water guns
Do an act of service
See Fireworks
Play with Glow sticks outside after dark
Catch lightning bugs
The Printable
I have made a printable to help keep up with our list, if you would like to download it to help you be intentional about making memories this summer, you can click here. I have made a Pinterest Board with a load of Summer Bucket List ideas to pull from as well.
I have also made Spring and Autumn Family Bucket Lists with Printables, and I am working on Winter and Christmas ones as well.
What will you put on your family's summer bucket list?