{This post may contain affiliate links. That means that I earn a commission if you make a qualifyingpurchase through my links (such as Amazon), but it does not change the price that you pay. For more information, please see my disclaimer page.}
This recipe for banana bread came from a dear, sweet lady from the church that I grew up in that I use to swap recipes with. She has since gone to be with Jesus, but I think of her each time that I make it. Her sweet face springs to mind each time I make her recipes, and I think of her legacy of caring and nourishing those around her…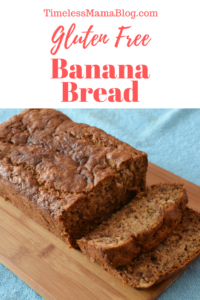 My notes are in bold.
[This post may contain affiliate links, for more information click here.]
Joanne's Low Fat Banana Bread Or Muffins
Combine well
3 or 4 banana (the riper the better!)
1 cup sugar
l egg
1/4 cup oil (I use avocado oil as it is much healthier than vegetable or canola oil)
1/4 cup applesauce (I am not worried about fats, I just use 1/2 cup oil most of the time)
Mix dry ingredients
2 cups flour (I use King Arthur Gluten Free All Purpose BAKING MIX-not the flour)
1/2 teaspoon salt
1 teaspoon baking soda
Combine well.
Some of our favorite add-ins are
1/2- 1 cup chopped nuts
1/2-1 cup fresh or frozen blueberries
1/2 cup dried fruit bits
Pour into greased pan (I use butter and line with parchment paper) (makes 12 large muffins or one loaf of bread. Bake at 350° F for 25 minutes for muffins or 45-60 minutes for bread This is a family favorite that I make as often as once a week.
My Notes
This recipe also works very well with a strusel topping
Streusel
2/3 cup  Gluten-Free All-Purpose Baking Mix
1/2 cup brown sugar, packed
1 teaspoon cinnamon
6 tablespoons butter, cold
Mix dry ingredients well before adding butter and mixing until crumbly. I like to double the streusel topping.
Never underestimate even the sharing of recipes. It is such a sweet act, and often quite a blessing to recipients.
I think of Mrs Joanne's sweet encouragement and caring each time I make this, or see the recipe in my book. While she was still living it served as a remind to lift her up in prayer and thank the Lord for putting her in my life.
Have you ever swapped recipes with ladies from church? What are your favorite banana bread add-ins?