Today I am sharing about one of my favorite resources, Ultimate Bundles.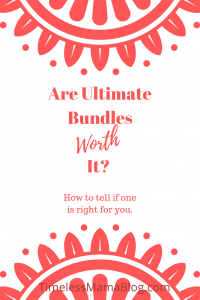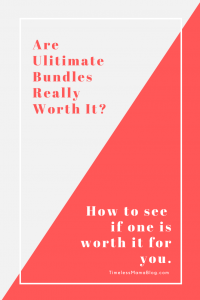 What are Ultimate Bundles?
Ultimate Bundles are bundles of amazing resources on various subjects at discounts of around 98%. From healthy living, to parenting, to homemaking, to name a few of the subjects covered by the bundles.
How does it work?
You purchase your bundle and you instantly have access to the resources and bonuses included in the bundle. You must download them within six months, but they are yours forever. Usually the bonuses must claimed within a month or so.
Are Ultimate Bundles worth it?
There are so many resources that usually people don't even use them all, so why did invest in something when you only use a few things from it?
The best way to see if it would be worth it is to sit down with the list of resources in the bundle that you are interested in and make a list of resources that you would use, and the price that you would pay outside of the bundle.
If the resources that you would use are worth more than the bundle price it than it would be a good investment. If not, then maybe it's not for you.
Usually the bonuses alone make it worth the price of the bundle, and there are several resources that are twice the price of the bundle that I use, so it is well worth it for us.