{This post may contain affiliate links. That means that I earn a commission if you make a qualifyingpurchase through my links (such as Amazon), but it does not change the price that you pay. For more information, please see my disclaimer page.}
A Beautiful Taste of Heaven on the Mission Field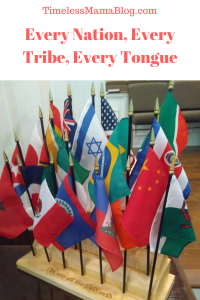 Missions is something that I have always felt strongly about.
I went with Global Expeditions to Spain in 2005. I would not have chosen Spain, but my mom wanted my sister and I to go together.
It was a great experience. Global Expeditions had partnered with Jesus Revolution, a missions organization based in Europe. So, on top of the team from the US and Canada, there were 11 or 12 other countries represented.
One thing that I will never forget was a prayer service we had not long after arriving in Spain.
A Unforgettable Prayer Service
After a welcome and some worship, they asked for a representative from each country to come up and pray in their countries language.
It was such a beautiful taste of the promise in the Word:
After these things I looked, and behold, a great multitude which no one could count, from every nation and all tribes and peoples and tongues, standing before the throne and before the Lamb, clothed in white robes, and palm branches were in their hands;

Revelation 7:9
There were 11 or 12 languages prayed in. What a small fraction of every tribe, tongue, and nation, but so powerful!
These days my mission field is filled more with diapers, laundry, toys, and activities than foreign countries, but it is none the less a mission field!
Have you ever gone on a missions trip? Do you view your home, neighborhood, town, and country as a mission field?