{This post may contain affiliate links. That means that I earn a commission if you make a qualifyingpurchase through my links (such as Amazon), but it does not change the price that you pay. For more information, please see my disclaimer page.}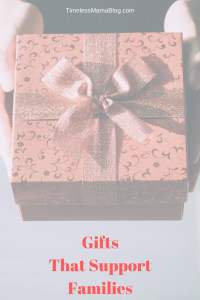 Gift Ideas The Support Families
Want a more unique Christmas gift? How about one that helps support a family?
These are some of my favorite products, and they help support families around the country. All of these ladies are in education, some at home, some in public school. Many of these companies are Christian based, which I like as well.
Small Business Saturday vs Black Friday
Small business Saturday is the Saturday after Thanksgiving, the day after Black Friday. It is a day that encourages people to shop small, supporting small businesses and families. I personally love the idea.
These are not affiliate links. I am not getting any sort of commission for them. I just want to help get the word out about these products, and help these ladies support their families.
Thirty-One offers a wide variety of bags and organizational products, as well as a decor and jewelry line. Their site (and Pinterest) are full of amazing ideas for using their products.
I have several Thirty-One items including the Creative Caddy, Littles Carry-All Caddy, Double Duty Caddy, the Tall Organizing Tote and the Zip Top Organizing Utility Tote to name a few.
Brittany is a school teacher who loves helping her students learn.
LillaRose is a line of hair accessories. Headbands, u-pins, flexi clips, bobby pins, badge clips, and the flexi o clips make up their catalogue.
I only have two of the flexi clips, but I love them! They can be a bit more of an investment, but I think that they are well worth is. I love my flexi clips.
They hold hair securely, without necessarily holding it tight (so I can make a looser style, and I do not get a face lift when I put the clip in like when I put in a hair claw). Mom confession, I have slept in my flexi clip, and gone out the next day without having redone my hair. There are so many different ways to wear them as well.
Janet is a homeschool mom, and is one of the best example of the Proverbs 31 and the Titus 2 women that I know of. She also blogs over at Homemaking 4 His Glory.
Hello Cozy is a small business that sell handmade crocheted items. Wash cloths, scarves, cowls, hats, headbands, boot cuffs, and ear warmers make up the bulk of their shop.
Kim is a homeschool mom of 4 littles.
Inspired by Mary and Martha in the Bible, this company seeks to help encourage hospitality and serving your community.
I have some beautiful mugs that I love from Mary & Martha. Their items are pretty pricey, but they frequently have great sales.
Johanna is a homeschool mom, she has also co-founded the Christian Online Trade Market.
This one is a little more outside the box, but I love Allison's reuseable pads.
Beautiful materials and quality sewing make these a great score for any lady.
Allison is a homeschool mom.
I have shared about my struggle with wanting to wear make-up, and how I do not wear it often. Between wanting to set an example for my girlie, and the junk that is in today's makeup, it just does not happen much.
When I do wear it, I use Lemongrass Spa. The products are hands down the cleanest that I have found. Many of their products are also organic. I absolutely love their mascara.
Lemongrass Spa is doing a special Feedom Feet Campaigne to send our military members some pampering for their feet.
Anita is a homeschool mom.
I hope that these give you some good ideas for your gift giving needs!
Do you have a small business? Do you do shop small businesses?